Working with a specific static site generator?
Customize CloudCannon's documentation to suit your SSG.
Great! We'll show you documentation relevant to .
You can change this any time using the dropdown in the navigation bar.
These inputs are for editing ordered lists of values in your data.
Array inputs are grouped lists of inputs in the data editor. They are used for a wide range of use cases, ranging from small text lists to full component builders. Array inputs give your editors:
Drag and drop reordering
Configurable add options at any index
Intuitive editing
Easy removal of items
Array#
Grouped list of inputs with controls to add, remove and reorder items.
Array inputs are shown for inputs configured with the type array, or for array input values.
Inline values#
Inline values in Array inputs are displayed and edited with inputs directly in the list. By default, text, number and boolean values are displayed inline as text, number and checkbox inputs.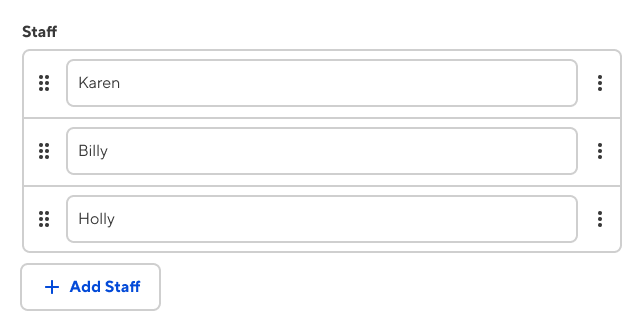 You can configure arrays to use different inputs for inline values with input configuration. Each value is still stored as either a text, number or boolean value — but is now edited with a more suitable input.
Here's an example for an array of Image File inputs:
Here's another example for an array of Select inputs, populated from a posts collection:
Structured or nested values#
Array inputs containing object or array values are shown as a list of Object inputs. Team members add, remove or reorder items directly on this input. Item values are edited after opening each item.
This allows your team members to intuitively manage complex data. When your data can be deeply nested, there is no end to what can be achieved. Rendering the array value from this input with a loop on your site creates powerful editing opportunities for your team members.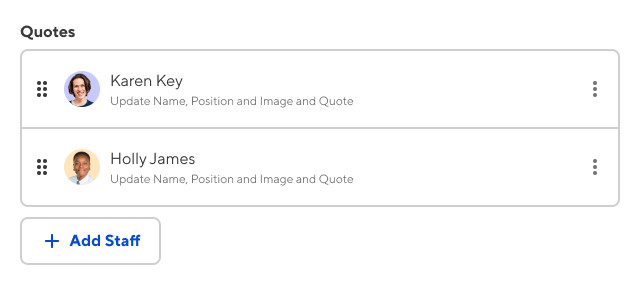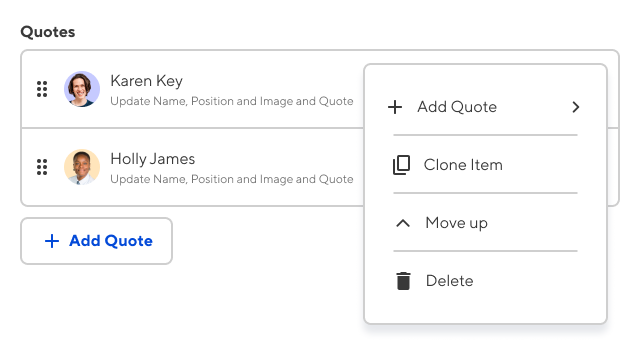 Options#
Array inputs are configured with options inside an _inputs entry.
Array inputs have the following options available: